For a reliable, trustworthy, and licensed chiropractor in Milton, ON, we welcome you to visit us at Healthy Family Chiropractic & Wellness Centre. Searching online for "chiropractor near me at Milton" might show you several listings in the area, but we highly recommend you only get chiropractic treated from reputed chiropractors such as Dr. Mathew Posa at our facility. We offer chiropractic adjustments to help our patients get relief from several types of conditions, including back pain. One of these techniques we offer is the Thompson technique.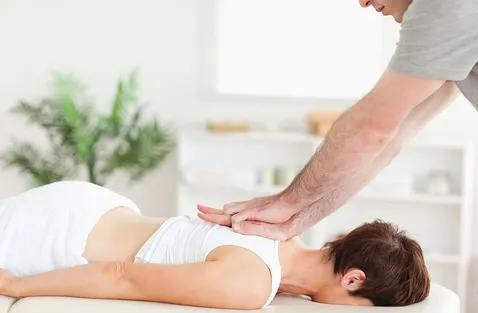 Initial Consultation
For first-time visitors at Healthy Family Chiropractic & Wellness Centre, one of our chiropractors will perform an initial assessment of your back pain. This involves assessing the patient's medical history and current health. The initial assessment might also include certain imaging tests such as CT scans or MRI scans to fully understand the pain or discomfort occurring in the back. We will also check for any underlying conditions causing the back pain. Once the diagnosis is complete, we will recommend the most suitable adjustment for your back pain.
Back Pain Adjustment Using Thompson Technique
One of the adjustment options for the back is the Thompson technique. In this technique, our chiropractor will use low amplitude, high velocity, and low force adjustments for the spinal area. The Thompson technique is also referred to as the drop-table technique. The drop-table name comes from a specialized adjusting table used to keep the patient comfortable during the Thompson technique.
The gentle nature of the Thomson technique and its effectiveness in providing relief from different conditions makes it one of the most popular chiropractic techniques. The Thompson technique is commonly used for pregnancy care, pediatric care, chronic back pain, geriatric conditions, inward neck curvature, and more. As is the case with most chiropractic techniques, the Thompson technique is non-invasive, making it extremely safe for the patient. Most of our patients start to feel relief from back pain from the first chiropractic session with us.
To perform the Thompson technique on the back, the patient will be lying facing down. Our chiropractors will use gentle jolts of pressure on the areas of the back that need adjustment. During the procedure, our chiropractors will adjust the pressure depending on the condition being treated and the patient's comfort.
Contact Us for Back Pain Relief from Our Chiropractors in Milton, ON
To schedule a visit with us at Healthy Family Chiropractic & Wellness Centre, you can reach us via phone or through our website. We also encourage you to browse our website for more information about our chiropractors, services and techniques, reviews, new patient information, and other useful resources. Our professional staff is dedicated to providing the care our patients need to live long and healthy lives. Contact our professional staff today to learn more about how we can help you live pain-free.
Call (905) 864-1516 today!