Lower Back Pain is a condition that can happen to anyone. Sometimes it starts suddenly, and sometimes it is chronic in nature. If you are suffering from lower back pain, finding proper treatment is a must. Contacting The Healthy Family Chiropractic & Wellness Centre in Milton, ON, to find a "chiropractor near me" is a great option. Below is some information about reasons why back pain happens, steps you can take to alleviate discomfort, tactics that aid in avoiding it, and what chiropractic care can do to help.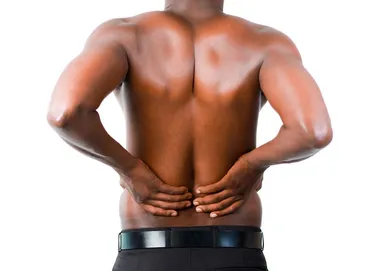 Reasons Back Pain Occurs
Lower back pain is often the result of improperly caring for the body while on the job or performing activity. If you move your body quickly or without using the proper ergonomic processes, back pain can be the result. It may be a symptom associated with obesity, wearing improper foot attire, sitting or standing for long durations of time, or the result of a personal injury, such as a vehicular accident. Back pain can also be caused by poor alignment related to certain medical conditions such as scoliosis and joint fixation. Adjustments help restore proper alignment, joint and spine mobility as well as improvement in proper posture.
How to Minimize Back Pain Discomfort
When lower back pain strikes, finding a way to reduce pain is desirable. Many people find that temperature therapy is beneficial in reducing pain effectively. Place a heating pad on the affected area of your body for twenty minutes to promote blood circulation. A warm bath also helps reduce pain. Avoid strenuous activities and rest as much as possible.
How to Avoid Back Pain
You can take steps to avoid back pain as you go about your daily actions. Use a back brace or have someone help you if you need to lift something heavy. Use a lumbar support pillow when driving or sitting for long stints of time. It is important to take breaks as well. Do simple stretches before a long bout in a chair or an exercise regimen.
What Chiropractic Care Does to Help Lower Back Pain
One of our chiropractors will assess your condition and make recommendations regarding treatment for your lower back pain. We will perform spinal adjustments to reduce discomfort in the lower back and other parts of the body. These sessions are non-invasive and work well at promoting healing of areas where joints are overstressed. Temperature therapy, massage, lifestyle changes, and light exercises are also beneficial in reducing lower back pain.
If you are ready for a patient visit, The Healthy Family Chiropractic & Wellness Centre in Milton, ON, is ready to help you find a way to heal quickly and effectively. Give one of our chiropractors a call at (905) 864-1516 to find out more about the services we provide or to set up a patient visit.