The Denneroll orthotic can make a huge difference in your life.
Almost 3,000 chiropractors on five continents use the Denneroll orthotic to treat chronic neck pain and other conditions caused by misalignment in the cervical spine. Luckily, the answer to the question: "Is there a chiropractor near me who offers Denneroll?" is an enthusiastic "Yes!" Your chiropractor at The Healthy Family Chiropractic in Milton, ON, offers Denneroll and other advanced chiropractic techniques to help you overcome neck pain naturally.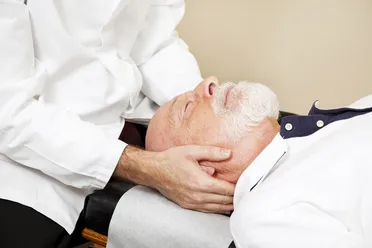 Easy, safe, economical, and effective, Denneroll makes a difference in just minutes.
The Denneroll orthotic is a pillow-shaped device your chiropractor prescribes for you to use at home. Originally designed for treating neck problems, there are versions of Denneroll for issues in the thoracic and lumbar spine as well. Clinical trials have shown that patients who use the Denneroll orthotic at home experience improvement in lordosis and kyphosis, two of the most common conditions of excessive curvature of the spine. As an orthotic device, Denneroll requires you do nothing more strenuous than lying down on it to help your spine retain proper alignment.
Denneroll gives you the ability to work on your symptoms at home.
One of the best reasons to find a "chiropractor near me" is the ability of chiropractors to get the root cause of chronic pain. For example, your chiropractor is an obvious source of help for lower back pain. Sometimes, however, spinal misalignments cause problems where you wouldn't expect them. A good example is myofascial pain syndrome.
Your fascia is the connective tissue that holds your muscles in place. It is made of bands of tough collagen that support and separate muscles and internal organs. The singular benefit of Denneroll therapy is its ability to heal problems in the fascia at home in conjunction with your chiropractor's treatments during your office visits. Your chiropractor gets to the cause of your problem, and Denneroll gives you a way to work on your symptoms at home.
Where is there a "chiropractor near me" who does Denneroll?
Dr. Matthew Posa at The Healthy Family Chiropractic in Milton, ON, offer top to bottom care for your spine. Our chiropractors at The Healthy Family Chiropractic are up to date on Denneroll and other modern methods of holistic healing to correct chronic pains and dysfunctions. Dr. Posa are here to help you create a healthy family. Request an appointment online or call us at (905) 864-1516. Offices of The Healthy Family Chiropractic & Wellness Centre are located at 4-850 Main Street East, Milton, ON L9T 0J4.